Cancun & Riviera Maya Travel Guide
Beyond its reputation as a party spot overflowing with extravagant resorts, Cancun serves as the entry point to the Yucatán Peninsula's natural wonders and ancient ruins. Jungle treks lead to breathtaking Mayan pyramids while other expeditions plunge into the crystal caves of Rio Secreto or the scuba sites off Isla Mujeres. Days can certainly be spent relaxing on the beach with a margarita in hand. However, those looking to venture beyond the typical Cancun experience can explore nearby jungles and cenotes or rise early for guided tours of famous sites like Chichen Itza and Tulum before the crowds arrive. For travelers seeking something different than stereotypical Mexican beach vacations, Cancun offers access to adventures combining nature, ancient history, and the modern luxuries it's known for.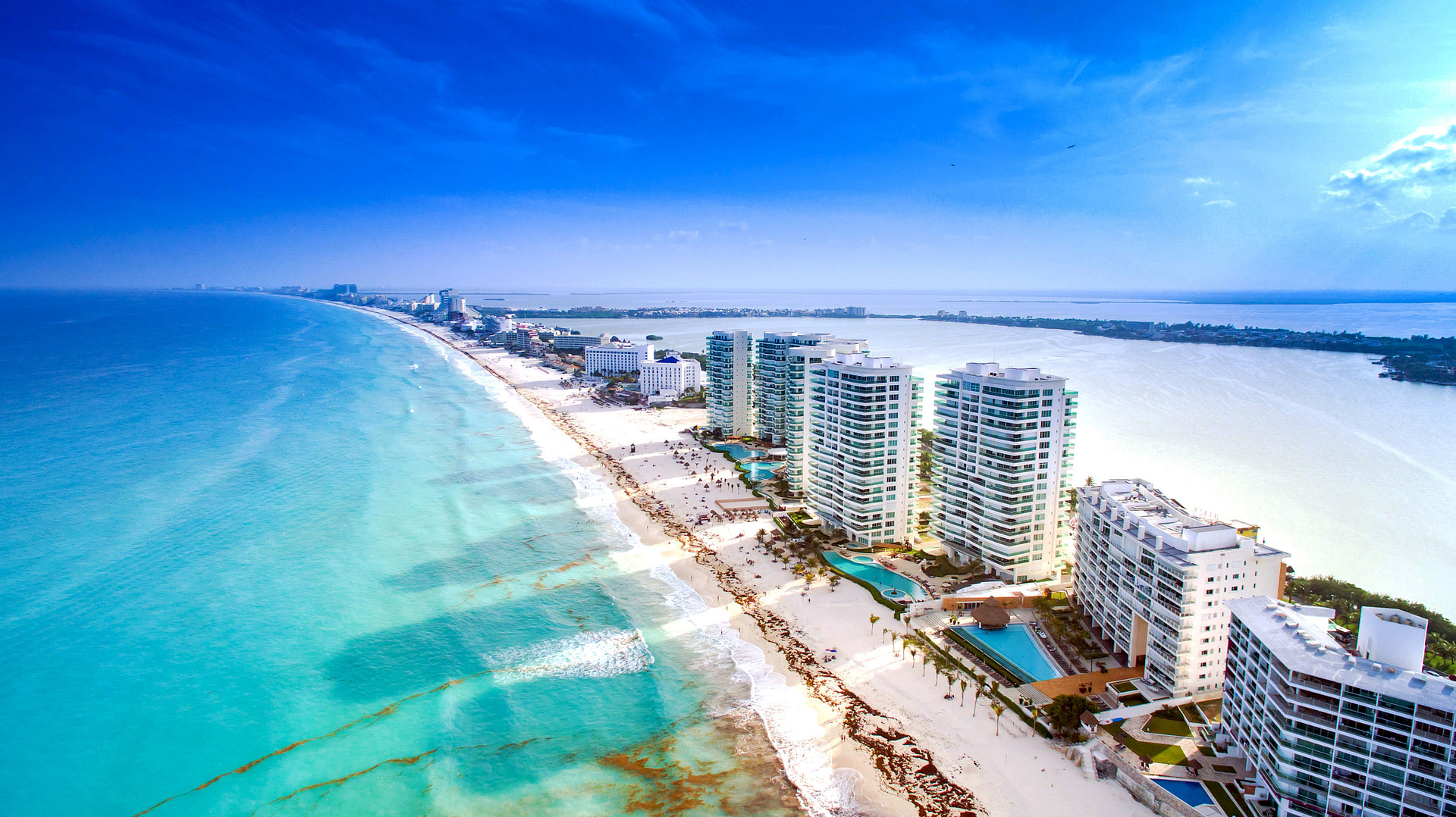 Here are some great reasons to vacation in Cancun, Mexico:
Beautiful beaches – Cancun is famous for its stunning white sand beaches and clear turquoise waters. The beaches are consistently rated among the best in the world.

All-inclusive resorts – Cancun is known for its many all-inclusive resorts that offer guests everything they need for an easy, relaxing vacation. Resorts have restaurants, bars, pools, entertainment and more.

Mayan ruins – Visit famous Mayan ruins like Chichen Itza, Tulum or Coba. These archaeological sites give you a glimpse into the ancient Mayan civilization.

Underwater activities – Scuba diving and snorkeling in Cancun provides views of colorful reefs, sea turtles, rays and schools of fish. Nearby cenotes offer crystal clear freshwater pools for swimming.

Adventure parks – Adventure parks like Xplor, Xcaret and Xel-Ha offer zip lining, amphibious vehicles, underground river swimming and more. Great for thrill-seekers.

Nightlife – Cancun has a lively nightlife scene with nightclubs, bars and outdoor cafés with live music ideal for young adults and couples without kids.

Great weather – Cancun enjoys mostly sunny weather year-round with average highs in the 80s and lows in the 70s. A great escape from colder winter climates.

Easy to reach – Cancun has a major international airport making it easy to reach from most large cities in North America. It's a popular and affordable vacation destination for US and Canadian travelers.

Delicious food – Cancun offers a wide variety of culinary experiences. From tacos at local spots to five-star gourmet restaurants, there's something for every palate and budget. Many resorts offer culinary experiences focused on Mexican flavors too.

Close proximity to other destinations – Cancun is a great home base to take day trips to other nearby Quintana Roo destinations like Playa del Carmen, Tulum, Isla Mujeres and Cozumel for more beaches, snorkeling and sightseeing.

Golf – Cancun has several championship-level golf courses designed by big names like Jack Nicklaus. The tropical landscapes make for beautiful places to play.

Spas – Many resorts in Cancun have world-class spas with massage treatments, hydrotherapy and more. It's a relaxing way to unwind on vacation.

Whale shark tours – You can take boat tours from Cancun out to Isla Holbox to snorkel with huge whale sharks, an incredible bucket list experience. The best time to see them is May to September.

Affordability – Hotel rates, food and attractions in Cancun are very affordable compared to other Caribbean destinations. More value for your money!
The Riviera Maya is a picturesque stretch of Caribbean coastline in Mexico's Yucatán Peninsula filled with beaches, resorts, nature, and Maya history. The Riviera Maya stretches along approximately 80 miles of coastline from Puerto Morelos to Punta Allen.
Tourism – Tourism is the main industry. Millions visit each year to enjoy the beaches, resorts, eco-parks, water activities like snorkeling/diving, and Maya archaeological sites.

Location – It runs along the eastern edge of the Yucatán Peninsula in the state of Quintana Roo. It starts just south of Cancun and extends down to the Sian Ka'an biosphere reserve

Main towns/destinations – The main towns and tourist destinations along the Riviera Maya include Playa del Carmen, Puerto Aventuras, Akumal, Tulum, and Playacar.

Beautiful beaches – The coastline contains beautiful white sand beaches and calm, clear waters in shades of blue and green. The Riviera Maya is home to some of the best beaches in Mexico, if not the world. We're talking soft white sand and turquoise waters. Popular spots include Playa del Carmen, Akumal, Tulum, and many resort towns along the coast.

Cenotes – Inland from the beaches, you'll find thousands of these natural swimming holes, caves and sinkholes. Cenotes make for a refreshing and unique swimming experience. Some of the most famous cenotes are near Tulum.

Mayan ruins – Ancient Maya ruins can be found throughout the region and many of these amazing ruins are located right along the coastline. This region has many impressive archaeological sites where you can explore ancient Mayan ruins. Don't miss famous sites like Tulum, Coba, and Chichen Itza.

Ecotourism – The Riviera Maya offers lots of opportunities for ecological and adventure tours. You can visit monkey sanctuaries, zipline through jungles, or snorkel through underground river systems. The Riviera Maya contains tropical forests, wetlands, mangroves, cenotes, and the Mesoamerican Barrier Reef. Eco-parks like Xcaret and Xel-Ha showcase the natural habitats.

Xcaret – This huge eco-theme park near Playa del Carmen offers snorkeling, wildlife encounters, Mayan culture shows and more. It's an ideal family activity.

Tulum – The trendy and bohemian beach town of Tulum is known for its yoga retreats, boutique hotels, and chic restaurants set alongside rustic thatched roof bungalows.

Luxury resorts – The Riviera Maya has some of the most lavish all-inclusive resorts in Mexico, with amenities galore.